Oh hey! Today we are diving into part 1 of a 3 part series on how to set up a dessert table! I'm super excited because I LIVE for dessert tables. They are the show stopper at every party, and usually the first thing guests notice- a true focal point. It is also a great way to showcase your theme and your beautiful desserts. Today will be about what to shop for, part II will be about how to style the table, and part III will be about how to add in extras like backdrops and balloon garlands.
One thing you should be keeping in mind during all steps is your theme and color scheme. I've probably said it a gazillion times, but I'll say it again- the secret to a professional looking party or dessert table will be staying on theme and using only colors in your color scheme. If you like "er what is she talking about", click here to read that post. Are you ready to get to the good stuff- cause I know I am!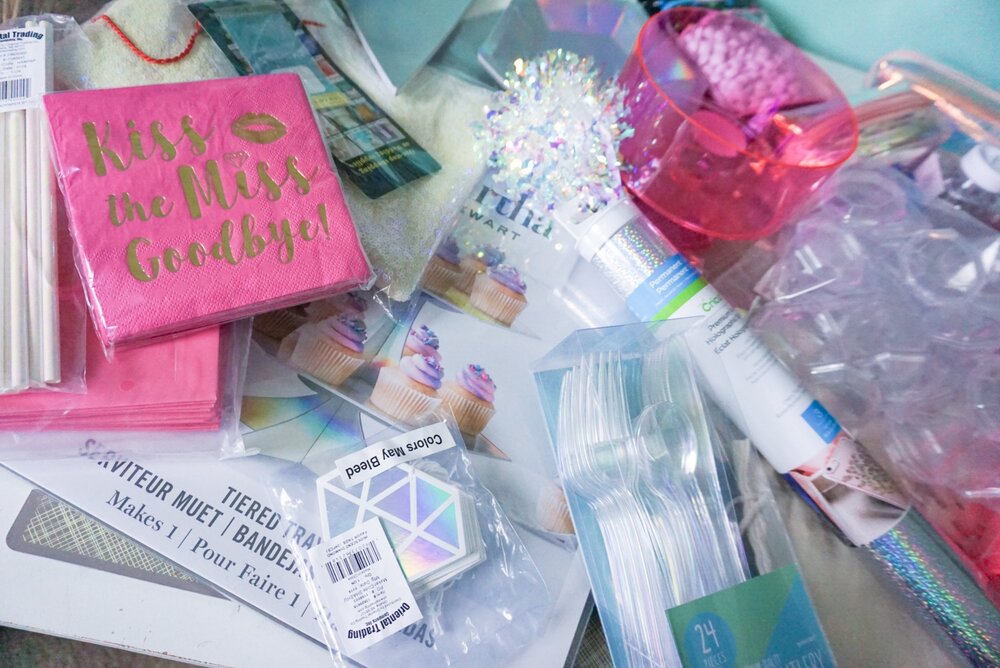 Display pieces/platters for desserts:
You will want to think about exactly what desserts you will be serving your guests. Having cupcakes made? Then you will probably want a cupcake tower to display them. Make a list of each dessert you will have, and have a general idea of what you will serve it on. One important thing to keep in mind for this part is symmetry and height. Okay, sorry, that was two things! Symmetry is important for overall esthetic- think about balancing out the table. I usually like to mirror what I am doing on both sides. I'll get into these topics more when we talk about how to set everything up in part II, but just keep these 2 things in mind when shopping for platters/displays. As mentioned already, a million times, keep color and theme in mind when shopping for these pieces as well!! See below how we kept to only clear and red containers to stay on theme. I know you might have a super cute blue plate you want to use, but if it doesn't fit with your theme or colors, then it will look out of place, and throw off the whole esthetic.
As for heigh, if you have something really tall on one side and nothing to balance it on the other, it will look off. Notice in the picture above how I used those white wood crates to create height- you will want to make sure you have something for your dessert table to create this height. It's not NEEDED, but it will make it more visually pleasing. It could be two cupcake towers, crates, or even acrylic risers- basically anything that you would like to use!
Cake Stands:
If you know you will be having a cake on your dessert table, why not make it the star! I think cakes look best right in the middle of a larger dessert table. With that, I think you need a killer cake stand to compliment that amazing cake!!! You do not want it just on the table, because it will get lost among the other desserts. Using the cake stand will create that height that we just spoke about, and really draw your eye to it first. There is no shortage of amazing cake stands on the market, but of course I have a little trick for you! I have glued together a plate and a candle stick several times- you just need a candle stick that has a large enough surface to attach to a plate. See the picture below for a visual. The red base is a Christmas candle stick and the buffalo plaid is a platter. I usually use this with smaller stacked cakes, or single tier cakes. I do NOT recommend this for really big or heavy cakes.
Now that we covered the major pieces needed, everything else is gravy! Have you ever looked at a dessert table and thought "wow that looks so amazing and so extra"? Well, chances are, the desserts weren't the only thing on the table. A beautiful table is also styled with other extras such as frames, flowers, and props or novelty items that really bring in the theme. Take a look at my favorite extras to shop for when it comes to styling your dessert table!
Frames:
Why stop at desserts!? I think adding in frames with either pictures or little signs is a great addition to any dessert table! Frames are so easy and cheap to find to fit any theme- you may even have some around your house! I can't tell you how many times I've taken frames from my fireplace or console table- oh wait, yes I can- a lot!!!
Flowers:
Simple and straight forward! I like to use flowers that fit my color scheme and place them in a vase or container that matches my theme. One of my all-time favorites is my pineapple vase pictured below! I hollowed out a pineapple (ate the pineapple) and used it to hold fresh flowers!
Novelty Items/ Props:
The last thing on my list is probably my favorite- searching for novelty items that fit my theme. I'm usually guilty of buying items without really knowing where I will utilize them-but don't you worry, I always find a spot for everything! This is one detail to me that really brings dessert tables to the next level- it elevates the cuteness. In the picture above, I found those adorable pineapple cups and added pineapple paper straws!
In the picture below, I added the globes, the LOVE sign, and some antique books. I also scattered around those cute little paper suitcases that I filled with candy for guests to take home. By looking at the picture below you would probably guess it was a travel themed party- and- you would be correct! But if I didn't have those items I mentioned, then it would just look like a pretty dessert table with no real theme.
So, now that you have a good idea of WHAT you need to buy, be on the look out for my post next week where we will talk about HOW to set up all those pretty things you bought! Are you ready to ready part II ( I know you are): click here! If you want to check out some themed dessert table guides - you can see those here! They are super helpful for planning your dessert tables because they are curated around a theme and include tons of shopping links to sho party supplies and decor! 
xoxo Cait